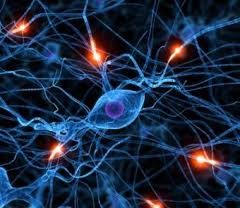 With half of the world constrained to their homes, our approach to goal setting is likely to be different from previous years.  In lockdown, the goals we have set for ourselves may relate to mastering a new skill or getting ourselves fit and in shape, some other personal or professional growth goal, or, of course,  goals relating directly to our business.
What goals have you set?  How are they going?  Are you still on track and committed after a month of working one them?  Or have you already abandoned them in favour of the easier option?!
In these strange times, I thought I'd focus a little on the mechanisms behind goal success, the neuroscientific mechanisms that help us to learn, change, and succeed.
I'm a biker, a Ducatista, and it's one of the things that normally keeps me sane!  Riding a bike well is a good metaphor for achieving life and business goals.  On the one hand, riding a bike can be so rewarding, yet deeply frustrating on the other.  A bit like running a business!
Our brains are remarkable pieces of equipment… much more powerful than the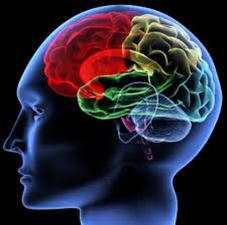 Electronic Control Unit that graces my Ducati Multistrada!  They are capable of changing, learning and taking decisions based on literally millions of inputs every second!
Threat or Reward?
One of the ways our brain does this is to organise the information it receives. It categorises every single piece of information it receives as either… a THREAT, or as… a REWARD.  It is then programmed to MINIMISE THREAT… and MAXIMISE REWARD (Evian Gordon, 2008).  Or to put it another way, it's programmed to keep away from a Threat, and to engage and encourage a Reward.
Examples of Threat could be: not enjoying what you are doing, an impending deadline, too much "pain", not believing in what you are doing or your abilities, or not enough perceived gain compared to the effort you have to put in.  Examples of Reward could be: the joy of delivering stunning customer service, winning a sale, ticking off progress in mastering a new skill, or anything else that you see as a positive achievement.
Now, you need to know how our brain reacts to either a Threat or a Reward scenario.  The answer that whilst it wants to move "away" from the Threat, it becomes very problem focused – i.e. fixates on the problem –– and it focuses on this Threat to the exclusion of other things.  In the case of a Reward, it seeks to encourage it, to move "towards" it.  In doing so, your brain is able to concentrate on delivering the outcome, whilst enjoying it, and keeping it in a wider context.
Can you see how having your brain in a "Reward" state will be so much more pleasant, effective, and enjoyable than being in a "Threat" state?  More importantly, you will be in a much better position to solve problems, deliver sales, and make decisions which are in the best interest of your business.
Harnessing our brain
So, how do you help your brain see more things as Reward and not Threat?  One simple approach is to develop "processes" – i.e. roadmaps of the way you will work – be it learning, selling, exercising, or any other activity you see as important.  If you know what you are doing, that it works, and that it will deliver your desired outcome, you are far more likely to see the activity as a reward… rather than a threat!
Back to my biking analogy, if you've ever watched top flight motorcycle racers, this should make sense… can you imagine what it would feel like riding a MotoGP bike along the Hangar Straight at Silverstone, braking from almost 200mph down to 85, and then throwing the bike into the right hander, with another bike alongside? Threat or Reward do you think?   I'm guessing Threat!  So, you'll try to minimise danger, probably fixate on the apex or worse, the outer kerb… with the inevitable consequence!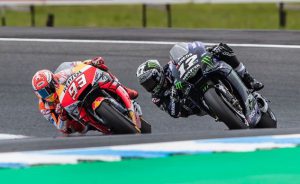 But not the two guys here – Marc Marquez and Maverick Viñales!  They will be loving it – it's all Reward to them!  So they stay engaged, with a global view, and make the best decisions they can.
This is what we need to do in life and in business – recognise challenges, equip ourselves with knowledge, with a process, practice, and keep thinking positively.  We may need help – and that's OK.  We all need a helping hand to get the most out of our performance, be it a riding coach, a fitness coach, or a personal or business coach.
If we can understand our concerns and barriers, we can start to do something about them – and hopefully convert each one into a Reward.
Inner Voice
One last point… are you someone who gives themselves a hard time when things aren't going well?  Does your mind's inner voice use negative language – "what an idiot, you are useless at this" – or is it more positive in its messages?  The Threat-Reward response is also triggered by your inner voice.  So if you persistently use negative self-talk, you will never perform as well as if you concentrate on the positives.  Worth thinking about in my book.
So if you would like help to retrain your brain from seeing your gremlins as Threats to seeing them as opportunities and Rewards, please give us a call!
David Little